AIRHUB Met Data Receiver
General Description
The AIRHUB Met Data Receiver is a digital receiver that receives and decodes telemetry data from XDR-928 dropsondes. It supports upper air soundings from either UAV or research aircraft. The system automatically collects, calibrates and ingests received telemetry and then presents sounding data in real time via TCP/IP networking. Data are stored locally in a database in the event of total data link failure. It supports two way communications either via RJ45 10/100BaseT (LAN) or RS-232 DB-9 serial port (PPP) interfaces. TTL level digital lines support control of XDR-928 battery activation.
The system can be used stand alone in piloted aircraft, or Iridium SBD-mode satellite data modems and/or UHF point-to-point radio modems options are available to support UAV based hurricane applications. These RF link options enable feeding sounding data in near real time (within 20 seconds) to downstream Numerical Weather Prediction and hurricane tracking applications in near real time.
The system supports a single channel for performing a single XDR-928 sounding at a time. However, three additional optional receiver channels can be added to support reception from four simultaneous XDR-928 dropsonde soundings, and two systems can be ganged together to support up to eight soundings at a time for high altitude drops.
Applications
Real time hurricane intensity tracking

Synoptic upper air soundings

Emergency response/HAZMAT release

Homeland Security for NBC attacks

Military tactical weather support

Wildland fire weather support
Features
Compact, rugged, all metal construction

Rapid setup

CPU-managed for remote management

Reliable "hands-off" RF digital telemetry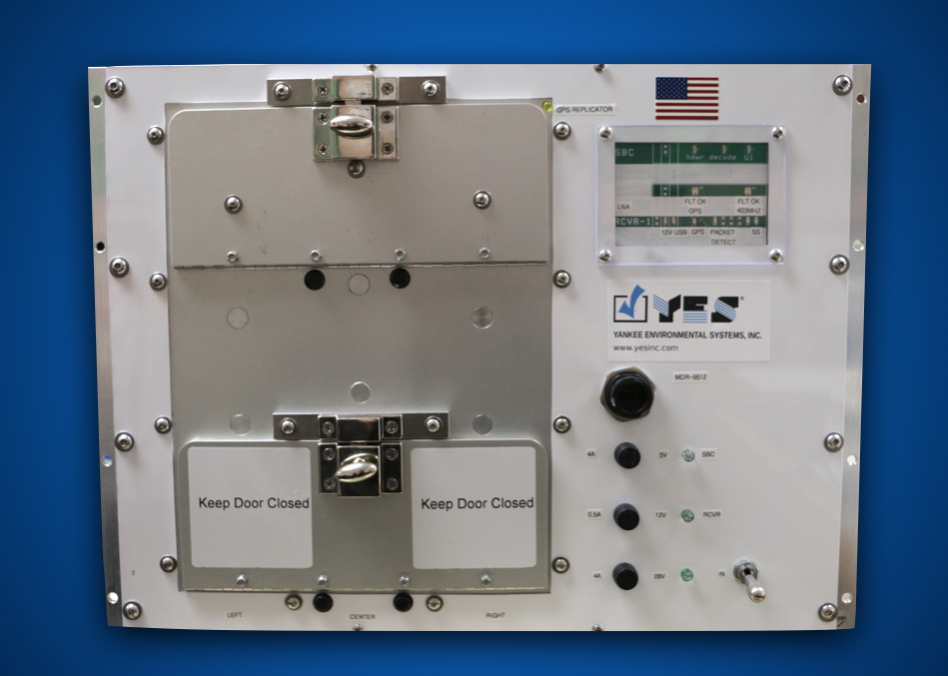 AIRHUB Met Data Receiver
The AIRHUB is connected to a vertical 400 MHz RF telemetry receive antenna. This antenna is typically mounted low on the aircraft. Received data is automatically ingested, and a cyclical redundancy check is used to verify telemetry data integrity before storing internally. It acts as an "Internet appliance" data server and can be remotely administered and monitored via TCP/IP.
As XDR data are collected and decoded they can be replicated to a YESDAQ Data Visualization software on a PC located at a ground station. YESDAQ is a key component of distributed sounding display systems, as it provides important replication and near real time data display via web browsers.
Setup and Maintenance
Setup consists of connecting to 12 Vdc power, assigning a static TCP/IP address for operation on a 802.3 LAN, whereupon these parameters are stored in non-volatile memory. In addition to airborne applications, the AIRHUB can also be installed in mobile command centers for deploying XDR-928 as balloon borne radiosondes. With no moving parts, it is designed for demanding vibration-prone UAV/aircraft applications.
AIRHUB aboard a UAV.
The AIRHUB is enclosed in an aluminum chassis, which houses an embedded x86 processor, a digitally controlled FM receiver with commercial grade front end RF filtering, a digital packet data decoder board, 1Gb CF drive for non volatile storage and 10/100BaseT 802.3 interface for LAN use. Standards-based software interfaces support SSH-2 and http and links to YESDAQ database replication. Hardware options listed below are physically affixed beneath it.
Options
400 MHz vertical RF telemetry receiver external antenna

Iridium SBD-mode satcom modem +ant.

UHF point-to-point RF modem, base+ants

Quad Telemetry receiver, for up to four simultaneous dropsonde soundings

YESDAQ Data Visualization software

XDR-928 Dropsonde.
Specifications
Met parameters: ingests all sensor data produced by Model XDR-928 dropsondes, including data from optional sea surface temperature sensors and either 1Hz or 4Hz GPS-derived winds.
Physical: 6"x 6" x 5", 13 lbs;
Operating Temp Range: -30° C to +60° C
Operating Humidity Range: 0-75% RH;
Storage Temp Range: -40° C to +85° C
Storage Humidity Range: 0-93% RH; non-condensing
RF Telemetry Receiver: Frequency Modulation, Frequency Shift Keyed, Manchester encoded 403.1-405.9 MHz from XDR-928 sondes.
Error Detection: Cyclical Redundancy Check
RF Telemetry Range: 300km (line-of-sight UHF)
Data latency: 1 second per record locally, 20 seconds to ground station, via Satcom option.
Electrical Interfaces:
Serial DB-9 RS-232 x 4

10/100BaseT 802.3 Ethernet RJ45 (LAN)

BNC RF telemetry (receive antenna)

SMA Satcom (transceiver option antenna)

DB-15/Molex 4p PC drive connector (+12 Vdc)

DB-25 for XDR battery control lines (TTL)
DC Power:
1A @ 12 Vdc (12 watts) duty cycle varies;

DC input tolerance: +1.8 Vdc / -0.2 Vdc,

AC ripple 40 mV
Irridium Satcom option additional power:
Standby Current: 100 mA (avg)

Transmit Current: 300 mA (avg), 1A (peak)

Irridium Operating Freq: 1616-1626.5 MHz

Duplexing Method: Time Division Duplex

Data Multiplexing Method: TDMA/FDMA

Iridium Link Margin Downlink: 13 dB average

Iridium Link Margin Uplink: 7 dB average
Physical: 4"x2"x1", 0.5 lbs
Quad Telemetry Receiver Option:
Multi-channel telemetry option requires additional power:
2A @ 12 Vdc (24 watts) @ 100% duty cycle
Physical: 4"x6"x8", 3 lbs